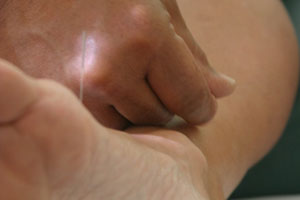 Acupuncture is one form of healing therapy used in the ancient, comprehensive medical system known as Traditional Chinese Medicine (TCM).
It is used to promote health, restore body functions, alleviate pain, and is acknowledged to be effective in treating a wide range of disorders.
Acupuncture is based on the theory that we have channels of energy flow throughout our body. Key points along these channels correspond to various systems, including our organs, muscles and tendons. When injury, poor diet, medication abuse, stress or other forms of trauma disrupt this energy flow, it causes pain, illness or other adverse reaction in the body.
How does Acupuncture Work?
According to biochemical and neurological research, acupuncture works by inserting very thin needles to activate the body's pain-suppression system that releases endorphins in the brain. This opens blockages and stimulates the body's natural healing processes. These provide pain relief, increased energy and vitality, and help strengthen the body and its immune system.
What happens during a treatment?
Very fine, sterile and disposable needles are inserted into points along the energy channels in the body to stimulate the flow of energy and, after a period of rest, may include a second insertion of needles. While acupuncture treatment offers immediate symptom relief most of the time, a usual course of treatment is between five to ten sessions, depending upon each individual case. It can be more when a condition has persisted for a very long time, or when continued optimal balancing is desired. A treatment plan may also include herbalprescriptions, electro-stimulation, massage, exercises, and lifestyle recommendations.
What conditions are effectively treated with Traditional Chinese Medicine?
Neurological – Headache, Migraine, Neuralgia, Facial Pain, Post-operative Pain, Stroke Residuals, Parkinson's Disease, Traumatic Brain Injury
Respiratory – Allergy, Asthma, Bronchitis, Cold, Emphysema, Sinusitis, Tonsillitis
Digestive – Abdominal Pain, Chronic Diarrhea, Indigestion, Constipation, IBS
Emotional – Stress, Anxiety, Insomnia, Depression
Eyes, Ears, Dental – Poor Vision, decreases internal eye pressure,Ear Ringing, Ear Infection, Tooth ache, Post Extraction Pain
Musculo-Skeletal – Pain and Weakness in Neck, Shoulders, Arms, Hands, Fingers, Back, Hips, Legs, Knees, Feet. Muscle Cramping, Arthritis, Sciatica, Disc Problems, Traumatic Injuries, Sprains, Strains, Sports Injuries, Tendinitis
Urological – UTI, Sexual Dysfunction, Frequent Urination
Gynocological – Irregular or Painful Menstruation, Insufficient Lactation, Infertility, Peri, Menopause and Menopause Syndrome
Cardiovascular – High Cholesterol, Heart Diseases, Hypertension
Other Benefits
Acupuncture increases energy and vitality, strengthens the immune system, supports skin rejuvenation, regulates blood pressure, helps with weight control, stop smoking and other addictions.
"I have been going to Jumbé Allen for over 3 years.  Jumbé helped me through the symptoms associated with chemotherapy and radiation and was my hero and great support making the process smooth for me.  He is extremely knowledgeable on many wellness topics and is warm and wise. I have always felt comforted on my visits in his office. Jumbé has a warm smile and a big heart and anyone will be grateful they made the appointment to see him.  I highly recommend Jumbé Allen to anyone who has received a cancer diagnosis and wants the very best of care."
Hillary P.
Connect With Us