W. Jumbé Allen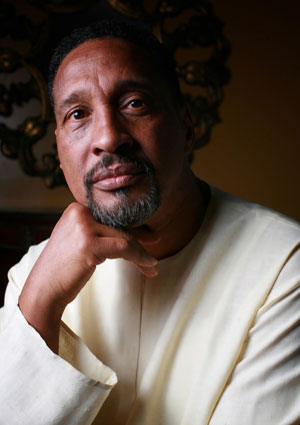 I am a native San Franciscan. Upon graduating from UC Berkeley with a BA in Anthropology in 1974 I pursued projects of Visual Anthropology utilizing film and photography.
In 1989 I became a diplomat with the National Certification Commission for Acupuncture and Oriental Medicine and in 1990 I received my license from the California State Acupuncture Board. I then went to China for a six months internship at the affiliated hospital of the Heilinjiang College of Traditional Chinese Medicine in Harbin. Subsequently I completed advanced course work at the Chinese International Oriental Medical Institute in Hong Kong, where I received certification as Doctor of Oriental Medicine.
I established my first private practice in Dr. Arthur Coleman's medical center in San Francisco and worked at the Bay View Hunter's Point Community Clinic.
Later I moved my practice to Chinese Medicine Works. I co-founded Pacific Acupuncture Associates, which provided acupuncture for homeless shelters, non- profit mental health and other community service centers, and prison inmates in San Francisco.
I established my practice in Oakland in 1997 and founded the Acupuncture & Health Center together with my wife Gabrielle in 2004.
It was my own quest for healing that eventually led me to study Traditional Chinese Medicine. During my student days at UC Berkeley I minored in film. Inspired by black film director Melvin Van Peeble, organized a group of African American student film-makers. Under the aegis of Professor Roy Thomas I organized the first conference recognizing and celebrating the contributions of African American actors and filmmakers to the American cinema in 1972, which also sparked the idea for the Black Filmmakers Hall of Fame.
While I was a student I was diagnosed with a serious ailment, at a time when there was no medical treatment for this malaise. That summer, following a friend's advice I stopped in Taiwan to consult with Traditional Chinese Medicine doctors, on my way to the Philippines, where I was to shoot footage on Psychic Healers. I received acupuncture and herbal medicine, which lessened the symptoms and strengthened my body. I was relieved and grateful for having access to a medicine that was largely unavailable in the United States at that time.
After graduating from Berkeley with a degree in Anthropology I returned to the Philippines, equipped with my cameras and film, and a desire to utilize visual anthropology to produce a documentary about psychic healers. I traveled extensively, interviewing and documenting healers and the sick seeking the healing. I also received treatment from them myself. It was veritably a trans-formative period.
Lacking in funds I sought work to continue to finance my project. I became an 'extra', a soldier in Francis Ford Coppola's Apocalypse Now film production. When a position on the crew opened I became the assistant to the script supervisor and the slate man on the Italian camera crew.
At the end of this very exhausting eighteen months film production in the jungles of the Philippines I was completely depleted of energy and strength.
I realized I needed to focus on my health. I returned to Taipei/Taiwan where I received extensive Scalp Acupuncture treatments and herbs over a period of six months.
Upon returning to America I moved to Harbin Hot Springs, where I lived for a year, focusing entirely on continuing to regain my health and vitality. I consumed only raw foods, established a yoga and meditation practice, studied native medicinal plants and Touch for Health Applied Kinesiology.
Later, I studied with Jack Schwarz, holistic health educator, researcher and founder of the Aletheia Foundation, who was instrumental in expanding my consciousness of the immense mind/body potential and in my learning of regulating functions controlled by the autonomic nervous system.
In 1985 I went to Taiwan once again, sojourning for several months to receive treatment and to investigate deeper into Traditional Chinese Medicine. At that time I realized that TCM integrates all the key elements of healing: fine observational diagnostic methods, such as pulse-taking and tongue reading; physical and energy healing modalities, such as acupuncture, herbal remedies, mind body exercises, such as Tai Qi and Qi Gong; and food as medicine.
This was truly the holistic system that I had been searching for.
When I returned to San Francisco I commenced to study at the San Francisco College of Acupuncture. I graduated in 1989 with a Masters of Science degree in Traditional Chinese Medicine.
Today, after 25 years as a practitioner I am still fascinated with this medicine. It has such a vast body of knowledge; it is both a science and an art, built on three thousand years of scholarship and experience that continues to grow with each practitioner and in every society it is planted in.
I have worked with people from many different walks of life and have helped them regain their health and vitality, and sometimes pursue a new direction in their life.
I am still deeply moved with the profound transformations in the healing process I witness daily with my patients.